1
Radha Govinda Gaudiya Math-Philippines
Radha-Govinda Gaudiya Math–Philippines is the main temple headquarters of the Filipino sanga. It is located at the heart of Quezon City and is dedicated to share and broadcast the precepts of Pure Bhakti as taught in the ancient Vedic literatures through preaching programs, harinama sankirtan (congregational chanting of the maha mantra), feeding programs, book distribution and translating and publishing Srila BV Narayana Maharaja's books into Filipino language.
OUR PROGRAMS: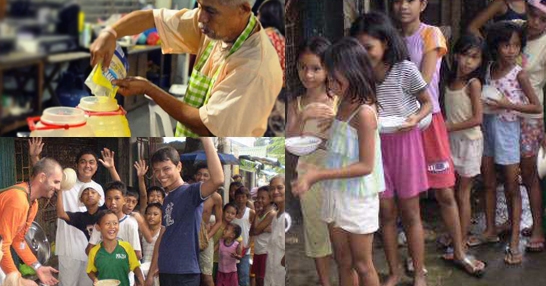 Feeding Programs
The Hare Krishna movement has been recognized all over the world when it comes to food distribution. Here in the Philippines, we distribute prasadam(sanctified food) to indigent families in different barangays on a regular basis. We also participate on disaster relief operations to give aid to flood and typhoon victims. Indeed, food distribution is one of the best ways to show love and affection to our fellowmen.
Sunday Love Feast
Our weekly Sunday gatherings have been famously known as Sunday Love Feast where devotees and guests celebrate the meaning, value and purpose of life thru singing, dancing, meditation, philosophical discussions and to top it off, a very sumptuous vegetarian feast. We open our door to the public for deeper understanding of the soul, spirituality and Vedic Culture. Many had life changing experiences after attending our Sunday Love Feast. Be one of them.
Chant for Peace
By the order of our current and previous acaryas, led by Lord Caitanya Mahaprabhu himself, we spread the Hare Krishna Maha mantra with firm faith that it will benefit all living entities. By organizing Harinam Sankirtan we can spread the mercy of Lord Krishna, the Supreme Personality of Godhead out in the streets, in every town and village on a wide scale basis. We firmly believe that chanting Hare Krishna Hare Krishna Krishna Krishna Hare Hare Hare Rama Hare Rama Rama Rama Hare Hare will bring about peace within ourselves and to everybody else's hearts as well.
Vegetarian Dinner Club
Every Friday and Saturday 6-8 in the evening we are having a Vegetarian Dinner Program, where for just P200, one may avail an 8 course scrumptious vegetarian meal. At the side of the dinner hall, there is honesty
box where the guests can give their donation to help the dinner program. Food service is also available from Monday to Thursday by group appointment only with minimum of 15 guest. One may also order menu for party or other occasions by contacting Gaurangi Didi. Tel. 624-6774, 416-5946, 09178354885.
This program was endorsed and sponsored by Radhakanta prabhu for the society to be able to introduce vegetarianism and distribute prasadam to people in all walks of life.
Book Publication and Distribution
Book Distribution has long been proven as the best tool for propagating awareness among the general populace. And for this same reason, we at Radha-Govinda Gaudiya Math, under the guidance of Sri Guru and Gauranga, translate and publish our Srila Gurudeva's books into our local language. We constantly strive on bringing more and more books containing different topics of our philosophy by having it available online, on bookstores and different colleges and universities nationwide.
For More infos visit us at:  https://www.facebook.com/groups/ipbysp/
Please consider making a donation.
Thank you very much!
Bhakti Projects, Inc. is a 501(c)(3) federally approved
non-profit religious organization that
provides tax exempt receipts for all donations.