0
Surabhi Kunda – A Memorial in Honor of Sri Srimad Bhaktivedanta Narayana Gosvami Maharaja (Srila Gurudeva)
Dear disciples and followers of Srila Bhaktivedanta Narayan Goswami Maharaja,
We are pleased to share with you a project inspired by a heartfelt desire to honor all the effort our beloved Srila Gurudeva put into helping us develop attachment to the pastime places of Sri Sri Radha Krishna Yugala.

One of his favorite sthalis (pastime places) is Surabhi Kunda. During Kartika, whenever we did Govardhana parikrama, Srila Gurudeva would always make a point to meet us at this place, if not any other. In telling the pastime in which Indra was forgiven for his offenses, he impressed upon our consciousness the importance of sincerely praying and bathing here, or at least performing acaman, and thereby clean our hearts. He had sublime faith in the power of this sacred place and that it could remove any impediment to our spiritual journey.
In honor of Srila Gurudeva's loving concern for us all, a group of senior devotees from Vrindavan have been inspired to construct a small memorial at Surabhi Kunda.
The memorial itself will be a stone gazebo, situated on the very spot Srila Gurudeva would sit every Kartika, to deliver his nectarean harikatha, as so many of us remember. We have already received permission for the construction.
For this purpose, a top quality red stone (like the one used for the Radha-Madhan-mohan temple in Vrindavan), with a durability of over 500 years, has been selected. There will be very beautiful hand-carved designs on the stone itself and on one of the sidewalls will be a marble plaque with a short Srila Gurudeva biography in Hindi and in English.
Expenses
If you would like to contribute to the construction, we are presenting a list of the materials and other expenses.
(1)  Stone:    INR  230,000
(2)  Design on stone and labor: INR  125,000
(3)  Transport materials: INR  30,000
(4)  Breaking down old site place and cleaning up: INR 10,000
(5)  Cement : INR 12,000
(6)  Stone chips to make basement: INR 5,000
(7)  Sand: INR 10,000
(8)  Foundation bricks: INR 10,000
(9)  Special glue for designs on stone: INR 4,000
(10)  Stones connection to other parts: INR 4,000
(11)  Misc. (Local police etc): INR 10,000
TOTAL : INR 450,000 (approximately $6900)
The current exchange rate is fluctuating between INR 62 to 68 per dollar.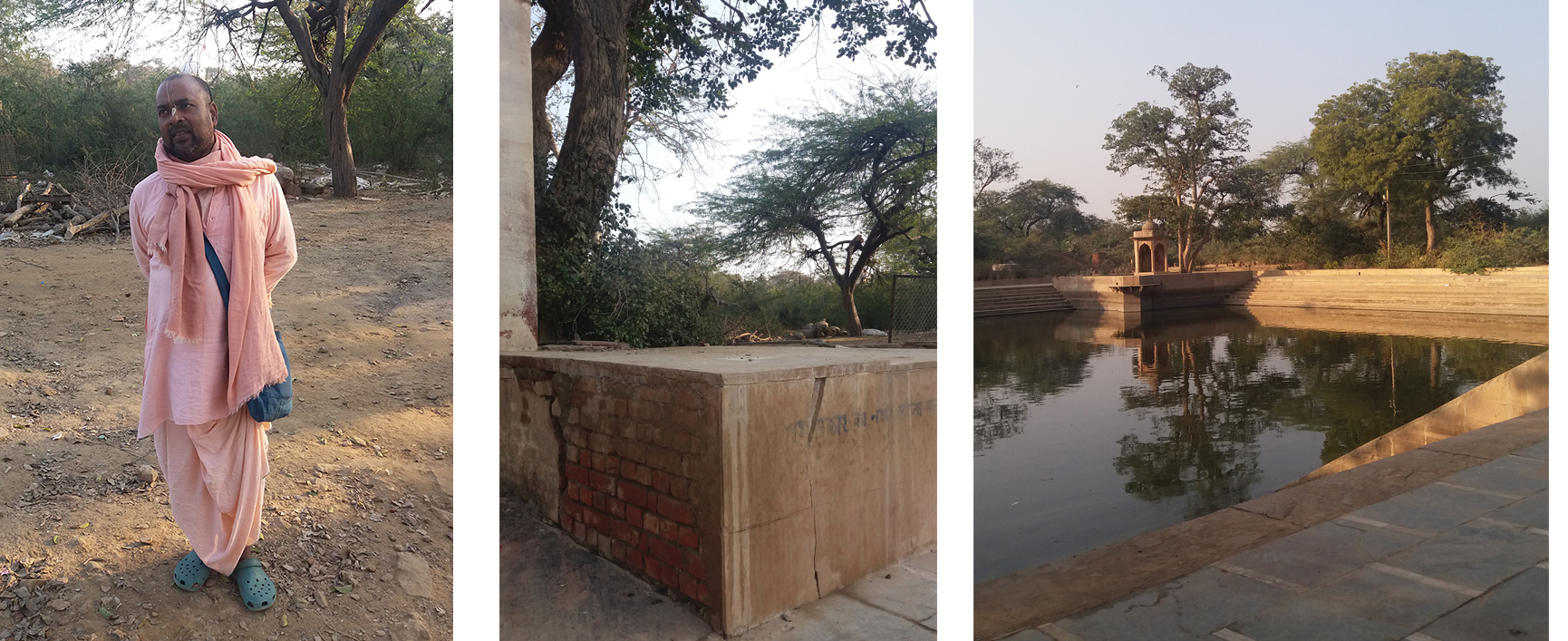 Construction plan
Dvija Krishna prabhu, Srila Gurudeva's personal cook and servant of many years, organized Srila Gurudeva's puspa-samadhi at Radha-Damodara Mandira and designed and decorated Srila Gurudeva's bhajan-kutira at Rupa Sanatana Matha. He has kindly agreed to oversee the construction and procure all the permissions required by local authorities. He will be our local 'man on site' to manage everything and deal with any challenge that may come up. Since he is known for his capacity to competently render such service to Gurudeva, we are confident that the project will be completed as quickly and nicely as possible.
Surabhi Kunda is a place to share the legacy of Srila Gurudeva with the new generations of devotees, a testimony of his tireless endeavor for our greatest welfare.
The gazebo will be completed with your kind help and is an opportunity for us all to spread the glories of Srila Gurudeva in Vraja, and around the world.
Gaura Premanande!
Srimati Uma didi, Srimati Janaki didi (indian), Srimati Vrindavan Vilasini didi, Srimati Vaijayanti Mala didi, Srimati Shashikala didi, Srimati Bakula didi, Srimati Sudevi and Kishori Mohan Prabhu

---
Words from Srimati Sudevi and Sriman Kishori Mohan:
Sripad Tridandi Maharaja:
https://youtu.be/jr0IYy2tb30
Srimati Uma didi:
https://www.youtube.com/watch?v=E1v-YVfJcXI
Srimati Shashikala didi:
https://youtu.be/s5k3wgn65zU
Srimati Vrindavan Vilasini didi:
https://www.youtube.com/watch?v=1bMG4GsoDiI
Srimati Janaki didi:
https://www.youtube.com/watch?v=dZEsMNrGAz0