4
Sri Ranganatha Gaudiya Matha Gurukula
Shri Ranganatha Gaudiya Matha Charitable Trust
 (Acharya: Nitya-lila Pravista Om Vishnupada Ashtottara-shata Shri Shrimad Bhaktivedanta Narayana Gosvami Maharaja Gurudeva)
Non-profit organization for helping the poor children
Executive Trustee: Dr. Swami BV Dandi B.Sc. (Hons), B.E. (IISc, Bangalore), M.S. (IIT Chennai), D.Sc. (Washington University), CISSP, Former consultant for NASA and US Army
General Secretary: Swami BV Vishnu Daivata B.E. (VJTI Mumbai), M.Tech. (IIT Khargpur), Former consultant for Pepsi Cola, IBM, Merrill Lynch, Goldman Sachs, Walt Disney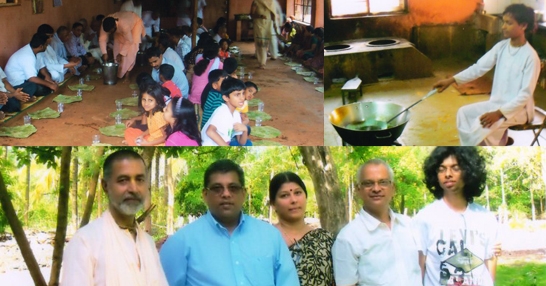 Shri Ranganatha Gaudiya Matha is located in an attractive, natural setting covering 8 acres of land. Surrounding the ashrama are the holy places visited by Shri Vyasadeva, Shri Vyasa Tirtha, Shri Brahmanya Tirtha, Shri Shripada Raja, Shri Durvasa Muni, Shri Ramanujacharya, Shri Shrimad Bhakti Prajnana Kesava Gosvami Maharaja, our beloved Shrila Gurudeva Om Vishnupada Shri Shrimad Bhaktivedanta Narayana Gosvami Maharaja, Shri Shrimad Bhakti Ballabha Tirtha Gosvami Maharaja, and other prominent Vaishnava acharyas. Shri Ranganatha Gaudiya Matha Charitable Trust was founded in year 2005 to help the poor children. We provide the spiritual guidance, free education, sumptuous prasadam meals, clothes, medical care, love and affection to about 20 children from poor families. All these children will become the excellent future citizens of India.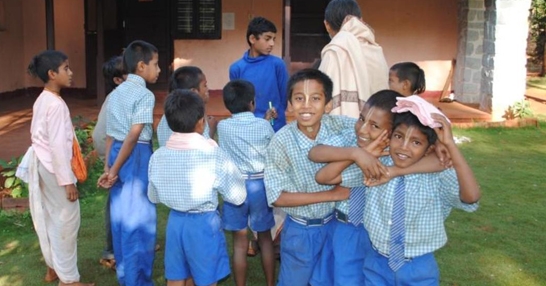 Mission statement
Nurture a new empowered breed of young generation to provide complete, consistent and perfect solutions to the social, moral economical, ethical, political, social and spiritual problems at the local, national and international levels.

Objectives
1. Shelter for helpless and poor children
2. Samskara Kendra (Educational and cultural center)
3. Healthcare counseling
4. Food for wandering boys
5. Art and craft training
6. Personality development
7. Cow protection
8. Care for elderly people
9. Renovation of Ancient Indian Temples
10. Preservation of Vedic Culture
Children today are severely affected by the unwholesome influence of the society such as addiction, crime and ill company. They are bereft of a healthy family environment. There is a horrifying number of more than one lakh such helpless children in Bangalore itself. We are providing medical facilities to such children to give them a healthier tomorrow. Aid us to build a better tomorrow for them. Nourish these young, innocent souls. Help us & BECOME THE INSTRUMENTS OF A DIVINE PLAN.
We provide the following resources and services to the children
1. Sumptuous and healthy nutritional vegetarian food
2. Clothes, blankets and sweaters during the winter
3. Medical, dental, vision care and other emergency care
4. First class education through English medium
5. Text books, notebooks and other educational aids
6. Sponsored visits to many holy places throughout India such as Navadvipa, Vrindavana, Devarayana Durga, Nama-chilume etc.
Lord Krishna says in Shrimad-Bhagavad-gita
na hi jnanena sadrsam pavitram iha vidyate
tat svayam yoga-samsiddhah kalenatmani vindati
In this world, there is nothing so sublime and pure as transcendental knowledge. Such knowledge is the mature fruit of all mysticism. And one who has become accomplished in the practice of devotional service enjoys this knowledge within himself in due course of time.
Purport by Om Vishnupada 108 Bhaktivedanta Swami Prabhupada
When we speak of transcendental knowledge, we do so in terms of spiritual understanding. As such, there is nothing so sublime and pure as transcendental knowledge. Ignorance is the cause of our bondage, and knowledge is the cause of our liberation. This knowledge is the mature fruit of devotional service, and when one is situated in transcendental knowledge, he need not search for peace elsewhere, for he enjoys peace within himself. In other words, this knowledge and peace culminate in Krishna consciousness. That is the last word in the Bhagavad-gita.
Construction Projects on hand
1. Temple
2. School (up to 10th Standard)
3. Reception
4. Dormitory for women and gents (30 members each)
5. Guest rooms
6. Orphanage (100 children capacity)
7. Old Age Home (20-30 couples)
8. Renovation of Goshala (for cows)
9. Solar Panels for heating water
Support the School
If you want to support the School, please consider making a donation. Thank you very much.
Bhakti Projects, Inc. is a 501(c)(3) federally approved non-profit religious organization that provides tax exempt receipts for all donations.